By Tony Sauro
Published in the Stockton Record on May 16, 2010
Max Simoncic had a good time composing the music. He always does.
He just didn't know he'd actually be conducting his "Fanfare and March," too. He can handle it, though.
"My memory doesn't serve me well some times," said Simoncic, a Stockton resident for 55 years who's written 500 musical compositions. "But I saw my name on the poster, so I figured it must be true. I called Bob (Gross) and he said, 'You're conducting it. You bet.' I'll get up there and it'll be fun."
Gross, who's known Simoncic for 50 years, since they were fellow music students at University of the Pacific, commissioned Simoncic to write his eight-minute march that Gross' 50-piece Lodi Community Band premieres today at Lodi's First Baptist Church during its season finale.
Lodi's Cell Block 7 Jazz Band, led by Bob Romans, also performs its "West Coast traditional style." Simoncic's composition is "dedicated to the city of Lodi," said Gross, whose group — which dates back to the 1890s and incudes musicians between 13 and 91 — also performs "Big Screen, Little Screen" tunes, ranging from Henry Mancini's "The Pink Panther," "Charade" and "Days of Wine and Roses" (among others) to "pop culture (from the "James Bond Theme" to "The Flintstones," "Scooby Doo" and "Wipe Out") and "Victory at Sea," from the 1952-53 NBC series.
The always animated Simoncic, 65, who said he hasn't conducted since 1990 and used John Philip Sousa's marches and "The Great Escape" for inspiration, led his one rehearsal for "Fanfare and March" with the Lodi group on Monday.
"I have nerves of steel," he said with a laugh, "but I didn't have truly confidence when I got up there. The architecture is right and now I have to build the whole thing? Oh-oh."
It worked.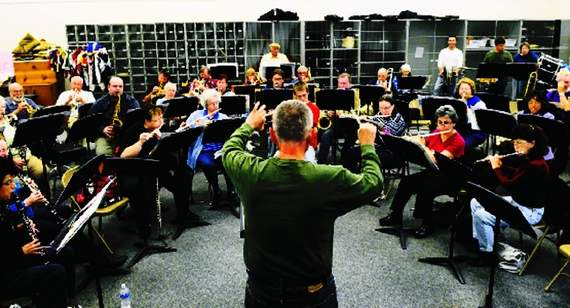 "It's an elaborate, crazy thing," said Simoncic, who wrote his composition in "probably a couple of months. I've never written a military march, though I have written everything else on earth, including opera. My deceased fa-
ther would be proud. He loved marches."
"It's just a kick, you know. What kind of military march is it gonna be? A parade? A 21-gun salute? It's pretty upbeat and there's a little Slavic element to it (Simoncic was born in Ljubljana, Slovenia). I did throw in a swing section at the end, so everyone would know I am American."
"It's really gonna be fun," said Gross, a French horn player who's led the Lodi band for six years. "Max had a good time. It's excellent, very thematic. It's really lyrical and a lot of fun to listen to."
That sounds like a consensus. "Mr. Simoncic's rendition is very challenging," said Virginia Hoskins, 91, who's played in the group during most of her 50 years in Lodi. "It'll be nice. There are so many nice people. Music is an art and learning situation. It's helpful when you have to practice. That's discipline. It's a lot of fun to play with others."
Hoskins, who was born in Berkeley, provides accompaniment on bells "in the back" during most of today's music. She also has played piano, drums and accordion.
Like the group's other senior members — "I think I'm the oldest" — Hoskins said music keeps her active, along with crossword puzzles, "going to the gym" daily at a Lodi wellness center and tending to her garden.
Gross, who taught and worked in Lodi Unified School District for 41 years and is retiring as the community-band director this year, said the group's been maintained — through donations and grants — as a civic institution.
"We try to provide the area with free concerts as often as we can," said Gross, whose group also is part of Delta College's Monday night music program. "We support as many community events as we can (eight this year) and enjoy playing concertband music and keeping that genre alive."
"We've provided entertainment most of time that has been free and observed patriotism for the community," said Hoskins, whose late husband of 63 years, Robert, was a clarinet player. "We don't parade because quite a few of us are old."
Simoncic, who said he's been commissioned to create another composition for the Stockton Symphony in 2011 — "It might be accordions and orchestra" — is a bit anxious.
"I just hope I can keep the beat and not get too nervous," Simoncic said with a laugh.