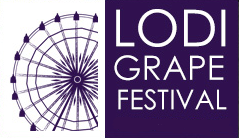 Join the Lodi Community Band, under the direction of Art Holton, at the Lodi Grape Festival on Saturday, September 17, 2016, at 3:30 p.m. The Band will be performing on the Foster Lumber Stage situated just inside the Main Gate.
Program:
Star Spangled Banner
Strike Up the Band
National Emblem March
Where The Black Hawk Soars
The Liberty Bell
Selections from The Music Man
American Riversongs
Bullets and Bayonets
Superman
Colonel Bogey
From Sea to Shining Sea
Emblem of Unity
Star Spangled Spectacular
Admission prices–
Children 5 & Under: Free
Youth 6 – 12: $5.00
Adults: $9.00
Admission tickets may be purchased at the Gate or online.