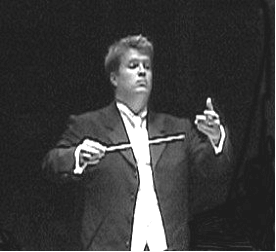 It will be a bittersweet occasion for the Lodi Community Band when Lodi High School Band Director David Vickerman steps center stage to perform a trumpet solo with the Band this Sunday afternoon. The popular educator is completing his fifth and final year at the school and will be departing Lodi to pursue a Master's Degree in Instrumental Conducting in Oregon.
Vickerman will perform the classic "La Virgen de la Macarena" (the bull fight song) during the Band's annual Spring Concert this Sunday, May 4, 2008, at 2:00 p.m. in the Charlene Powers Lange Performing Arts Theatre at Hutchins Street Square, 125 S. Hutchins Street, Lodi, California. Admission is free.
The Band will also honor two local high school music students with scholarships enabling them to attend Band Camp this summer.
Jordan Cunningham, a junior at Tokay High School, is member of the Band who also serves on its Board of Directors. She is a member of the Tokay High Marching and Concert Bands, and honor student. Cunningham plays trombone.
Michael Zuniga, a junior at Lodi High and member of its Wind Ensemble, is serving as the school's Assistant Drum Major this year, in addition to being a member of the Lodi Community Band. He also earned a spot in the San Joaquin County Honor Band, securing first chair in the bass clarinet section.
Three members of the Band's trumpet section will be featured on the well-known "Bugler's Holiday." Other program highlights include a medley of tunes from "Fiddler on the Roof," a symphony based upon the tunes of John Philip Sousa, Scottish tune "Ye Banks and Braes O'Bonnie Doon" and a rousing rendition of "America the Beautiful."