Todd Baldwin regularly takes part in the most historic and solemn events in Washington.
He's been doing that for 19 years.
Yet performing in faraway outposts such as Lodi can be just as inspiring as his formal experiences in the nation's capital.
"We definitely make a bigger impact away from D.C.," said Master Sgt. Baldwin, a member of the U.S. Army Band Pershing's Own Herald Trumpets, which is marking its 50th anniversary this year. "People haven't heard a group with so unique a sound. It's so powerful. It evokes a more excited, enthusiastic response."
That's likely to be the reaction Sunday when the 17-member unit, conducted by Capt. David Paroby, performs twice as part of concerts being staged by the Lodi Community Band at Hutchins Street Square.
It's the group's first visit to California since accompanying the Hollywood Bowl Orchestra on July 4, 2002.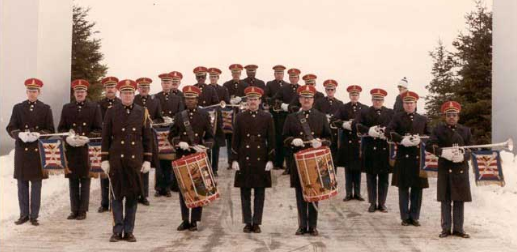 Bob Gross, conductor of the 45-member Lodi group, who spent a year helping arrange the Herald Trumpets' visit, already is excited.
"They're truly a national treasure," said Gross, a member of U.S. Army Reserve and National Guard bands from 1968 until 2004. "This organization is just phenomenal. These guys are musically and technically pros of the highest caliber.
"To have them come to the West Coast – to Lodi – is an honor and a privilege."
That's how Baldwin, 47, has approached his musical duties and other military training and responsibilities for 25 years.
"Oh sure," said the native of Kansas City, Mo., who grew up in El Paso, Texas, and is based at Fort Myer, Va. "The group itself was formed to perform at military ceremonies and arrivals for presidents and heads of state in D.C.
"That's where everything spins out of. We have a kind of presidential stateliness about us. Whether it's the Olympics, televised events or the history, it all relates back to presidential stateliness."
The Herald Trumpets were formed "kind of based on British fanfare ensembles," said Baldwin, a University of Texas, Arlington, graduate who's played in Army bands for 25 years. "That's an ancient tradition there."
The unit was named for Gen. John J. "Black Jack" Pershing, the late Army chief of staff who founded the overall U.S. Army band in 1922.
Baldwin, who "got into the Army as a trombone player" and still plays a "trombone-ranged trumpet," said his experience has "allowed me to be part of a lot of events and history I normally wouldn't have witnessed – like the Olympics and standing on the balcony of the (U.S.) Capitol building and the White House."
The Herald Trumpets perform at major Washington events – including the White House, Pentagon, presidential inaugurations, visits by foreign heads of state and during burial ceremonies at Arlington National Cemetery.
"It's even hard to estimate," Baldwin said of his group's solemn duty at Arlington, the national military cemetery. "At least 10 (burials) a week for 25 years. That's probably kind of a low average.
"Emotionally, it can be difficult, although everyone deals with it in their own way. You learn to distance yourself a little bit. We're doing it for fallen heroes, though during the ceremony we're quite a distance form the families. So we don't have intimacy. We play standard chapel hymns and marches down to the grave site."
Baldwin's fifth presidential inaugural was the most memorable.
"It was spectacular," Baldwin said of Barack Obama's Jan. 20 inauguration. "By far it was the most exciting because of the vastness of the crowd."
His fondest memory, so far, was playing during a White House dinner commemorating the 50th anniversary of the United Nations in 1995.
"We performed as at least 100 heads of state arrived at the White House," Baldwin said. "We were part of the ceremony. We were onstage playing the fanfares with all of these world leaders as our audience."
Baldwin, instead of freelancing or pursuing a musical career, enlisted in the Army after college.
"I aspired to performing, and it provided me that opportunity," said Baldwin, who still plays in wedding bands, a 10-piece swing band that appeared during an episode of NBC-TV's "West Wing" and orchestras. "To get in, you had to audition. It was similar to auditioning for a symphony orchestra."
Gross, 66, also spent a lot of time performing and conducting in Army groups – the California Army National Guard, 59th Army Band in Sacramento and the 91st Division U.S. Army Reserve Band at Camp Parks near Dublin.
A Bakersfield native and University of the Pacific graduate, he was Lodi High School's band director in 1971-79, worked as a principal until 2000 and retired from the Army as a Chief Warrant Officer 4.
Musically, nothing quite tops this, though.
"This is No. 1," Gross said. "It's just outrageous to get them to come to Lodi. It's just wonderful. I had no idea it would actually happen."
Source: The Stockton Record. Contact reproter Tony Sauro at (209) 546-8267 or tsauro@recordnet.com.